In this Toys of Yesterday, I wanted to take a trip back, but not too far into the past. Many of you may remember the Zoids animation that aired on Cartoon Network's Toonami block back in 2001. Well, for those of you who do remember the show, Zoids was pretty much my after-school drug. I loved the whole idea of robotic, piloted animals that fought each other in tournaments. Well, because of the popularity of the show, Hasbro joined with Tomy Japan to bring the Zoids model kits stateside.
The series literally had hundreds of different models of Zoids that ranged from small caterpillars to gigantic brontosaurs. The funny thing is, the series that I and many others are so familiar with was not the first series of Zoids. The history of the series spans much farther back than that.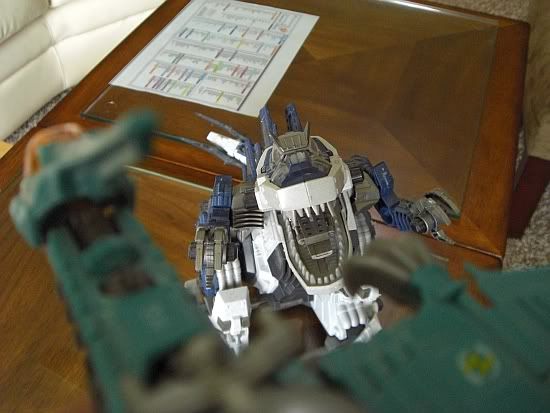 Zoids, short for Zoic Androids were first created in the 1980s, and were developed for sale in Japan, the United Kingdom, and the U.S. The models, while simple at the time, had wind-up motors to simulate a walking or moving robotic creature. As time went on, many Zoids were equipped with much more advanced moving techniques to make them seem "life-like." Above are the flying pterodactyl Raynos, and the "oh, so hungry" Tyrannosaurus Giga Gojulas. As referenced in its name, the Giga Gojulas is a direct reference to Godzilla, or Gojira as he is known in Japan.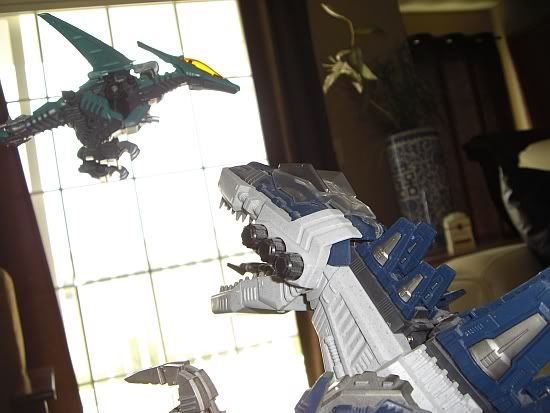 Most of the Zoids line, like mine, are 1/72 scale, but there are ones out there that range in the 1/24 scale, making them much more massive and detailed. It is also interesting to note that while Japan and the U.S. both sold the same Zoids model kits in the 1980s, the U.S. had no storyline or background to the Zoids line, while Japan had a "Battle Story," detailing the sides each Zoid represented. The Zoids created at that time also were more like the skeletons of creatures than the actual robotic creatures themselves, as seen below: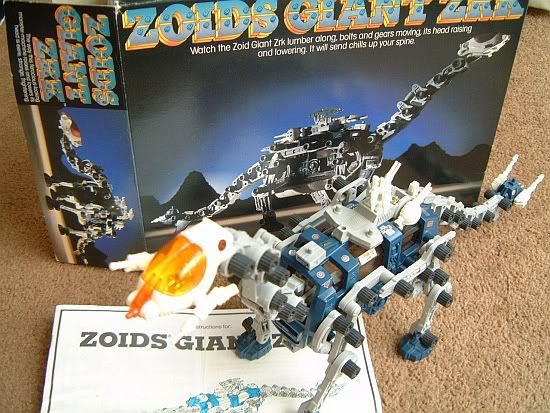 There have been fourteen different Zoids set releases, combined to have over two hundred different Zoids to date. Of course the more recent the Zoid, the more features and poseability it will have. This collection seen below is quite vast, but it only sums up about one third of the entire collection.
So what makes a Zoid a Zoid? First the model kit must have a wind-up motor system. Second, it must have pegs to hold together the body and limbs, as seen below. Finally, the Zoid must have a cockpit for a small plastic pilot to sit in. That is pretty much all it takes to be a Zoid.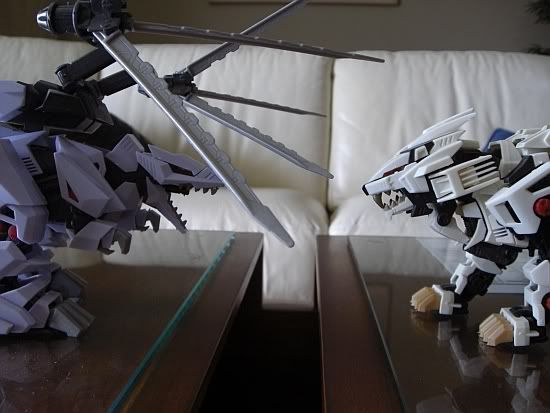 In 1999, Japan created an entirely new series of Zoids. These Zoids have much greater mobility and many of the larger scale ones include battery-powered motors and no wind-up mechanism. Those Zoids are what I have today. They are probably the ones most popular and most recognizable to North America. The Zoids shown above are the Berserk Fury (left) and the Liger Zero (right). These two represented the two opposing sides in the first American Zoids animation, known as the New Century Zero series in Japan. In this series, the two seen above are revealed to be unique Zoids known as "Ultimate X Zoids," which meant they were able to learn and adapt to different situations without the use of a pilot.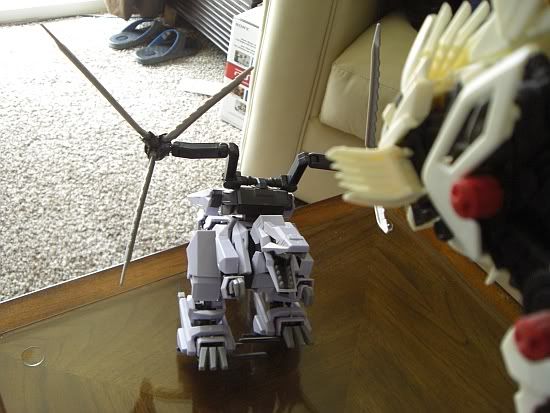 What I liked most about the series and the model kits was the depth and detail that every Zoid had. In the show, Liger Zero had four different armor parts (including the normal armor shown above), collectively known as the C.A.S. or "Changing Armor System." The armors were the Schneider, a red armor system for Liger Zero that improved his close-quarters combat with various blades; the Jager, a blue armor system that improved Liger Zero's speed dramatically, and the Panzer, a military olive green armor system that focused everything into long-range attacks like missiles and gun attacks. While I wanted each of them, only a Schneider system was released in the U.S. that came already bundled with a Liger Zero, which I already had.
The Berserk Fury (known as the Berserk Fuhrer in Japan) was different. It only had one set of armor parts, but it had a special attachment known as the Buster Claws, which could be used to counteract the Fury's small arms for close-quarters combat, and could double as twin-charged beam cannons.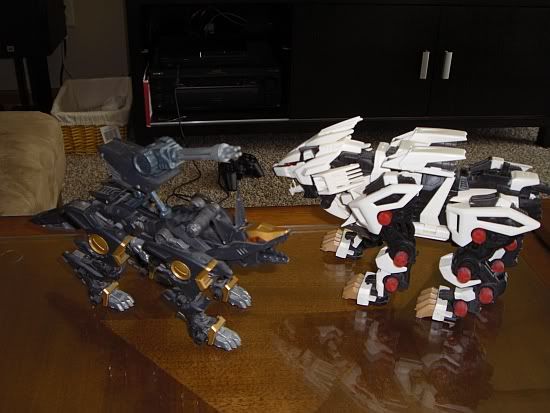 What I probably enjoy most about Zoids is the level of enjoyment I had while building them. Unlike Gundam models which can get tedious to outright boring sometimes, every single Zoid I've built, I've never had any problems with build quality or even structural complaints. Each one comes with a level of poseability that exceeds its motor system. For example, the Shadow Fox seen above has a full 180 degree turning Gatling gun, as well as a head that can turn side-to-side as well as up and down for the "howling" effect.
The Liger Zero, the Giga Gojulas, and the Berserk Fury are all battery-powered and come with two modes of movement. For the Liger Zero and Giga Gojulas, you can have them walk fast, or have them walk slow (the Giga Gojulas must have its stance changed, however). The Berserk Fury can either walk, or have his particle beam cannon open up. Newer models of Zoids have a wireless remote control add-on, so you could actually simulate a battle if you wanted to.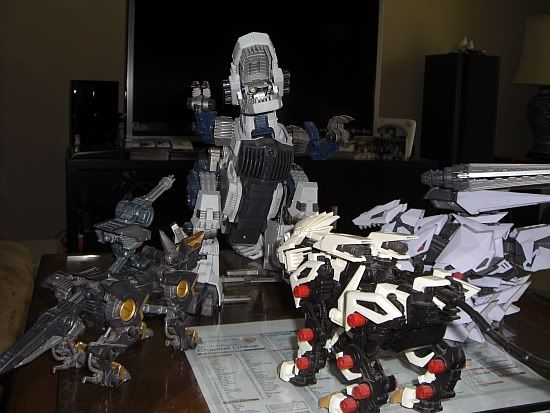 Zoids have been quite a great influence on my model-building hobbies. Without them, I probably would never have been able to complete my first Gundam model. They live on as a testament to the much more archaic wind-up toys of yesterday. With the New Century Zero animation series that I watched almost every day after school to the incredibly short run of Zoids: Fuzors, Zoids will always have a place on my collection shelf.