I figured it was about time I got back to promoting stories from the c-blogs when BeckyHolly contributed her lovely review of Megahouse's GEM Series Ichigo Kurosaki figure (Bleach). It had to wait a little since we're beta testing the new site, but you must wait no longer!
Ichigo was released in September and is currently still available at our usual places if any of you folks look at this article and decide you must include him in your collection! Enough of that, though. Hit past the jump and check out Becky's review!
After attending my first con, I noticed the huge amount of cool-looking Bleach merchandise. So I decided to take a break from my usual seinen anime fare and watch Bleach. And now it's taken over my life! In the past few months, it's been the only thing I've watched! So imagine my delight when I saw that a new figure of the series' protagonist, Ichigo Kurosaki, was being released. Up until now, Ichigo figures have been crappy, small, overpriced, lacking detail, or just plain ugly. And Ichigo is none of those. Besides the Play Arts Kai Ichigo, I think this is the best Ichigo to date.

The photos improve, by the way. IF PHOTOS AREN'T WORKING, LOOK HERE-

http://s1222.photobucket.com/albums/dd488/BeckyHolly/Megahouse%20Ichigo%20Kurosaki/

But first-
Company-Megahouse
Line-G.E.M. Series
Scale-1/8

Let's start off with the box-It's an average size box for the GEM line.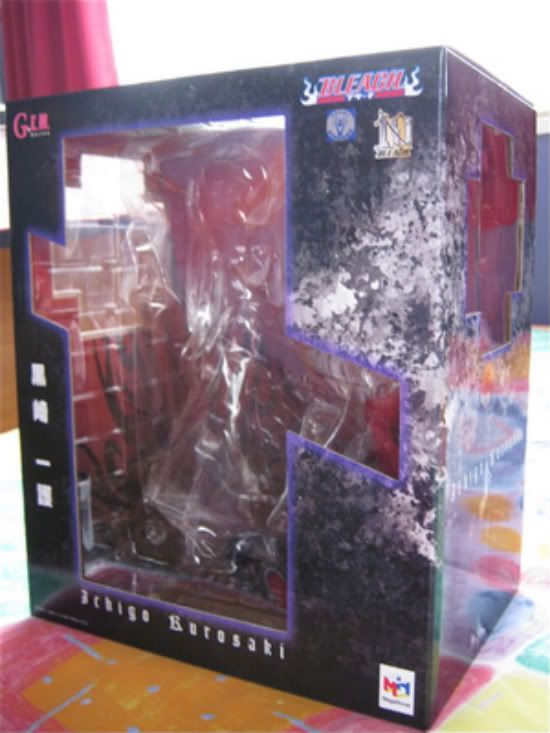 I couldn't really get a good photo of it, but you get the idea.




There is a window at the front with an angled cutout. This is a welcome change from boring square windows. The top and sides of the box have cross-shaped windows. The back has pictures of the figure. That's it. The box inlay is red, with black flames, which is pretty bitchin'.

Now, onto the man himself!




As you can see, the sculpt is the best part of this figure. There are lovely details in the fabric and hair. The flow of his coattails and hakama looks brilliant. Ichigo must be standing in a whirlwind breeze 'cos his outfit is swirling in different directions!




That face! So angst-ridden and handsome *sigh*
This is one of the best faces I've seen for Ichigo. The previous Megahouse figure had a...kinda angry, angular face, and I much prefer this one. His skin looks soft, and he has that trademark frown without looking pissed. His hair is very good too, considering how difficult it is to make 3D. Kudos to the sculptor for making it look natural. I would have liked more shading on the hair, but in the anime he doesn't exactly have a lot of definition in his hair so I can forgive that.

But there is a problem-HAIR SEAMS. A lot of them.




I was pretty disappointed by this. Couldn't they have sanded it more? But the main hair seam is mostly hidden, so that's something.




I really love the details on the belt and bandages. The prototype photos had more shading on the bandages, though. But they look clean and white this way.

The tatters of his Bankai coat look really cool! They look pretty natural as they flow in the wind. Although thin, the edges feel pretty sturdy.




Nice hakama... (That yellow is pollen by the way, it went everywhere while I was taking the photos)




He sure looks good from behind.




Of course, Ichigo is incomplete in Bankai form without Zangetsu. The sword is made of fragile plastic and looks as though it could break. So be careful.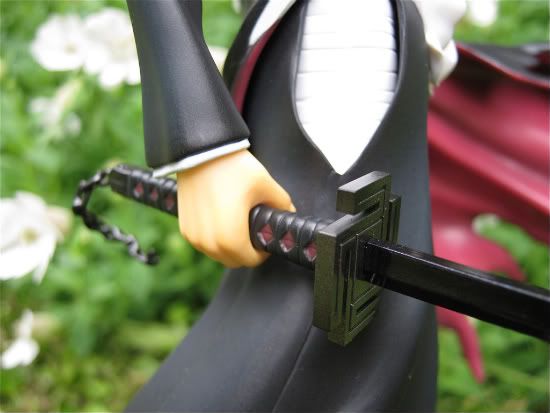 My, what a large weapon you have...




Close up of his sandals and the base. The straps of his sandals could do with some cleaner paint lines, but you only really notice when you zoom in like this.




If you look at this, you'll notice Ichigo's been into the fake tan. Yep, his skin is really orange!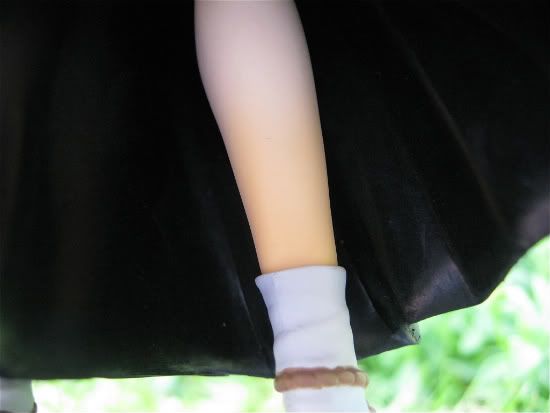 This is Megahouse, so of course you can do this-




You can look right up his hakama leg! Aw, come on, you were thinking it too! This just shows the attention to detail this figure has.

Here he is next to Megahouse's Kaworu Nagisa from the same GEM line for comparison.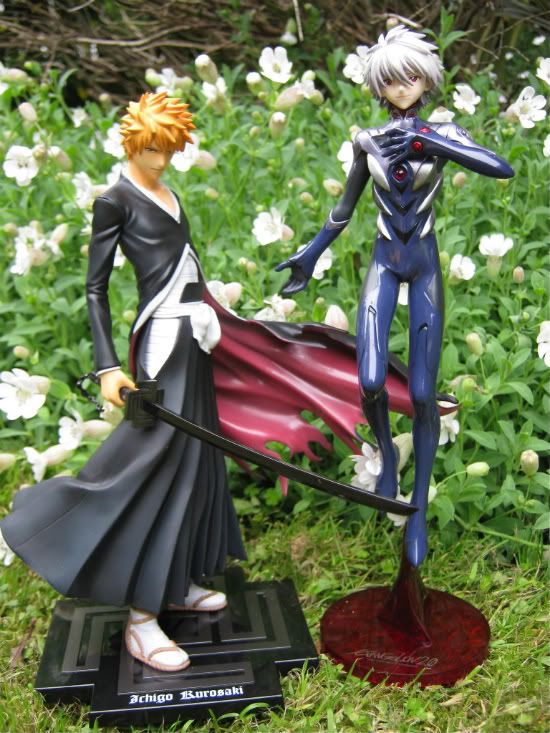 That was my first attempt at a figure photoshoot and review. Hopefully it was satisfactory! I took more photos, but I didn't want to bore anyone by going on too much. Not all the images re-sized properly, which was a real pain in the arse. I'm surprised I got this far, actually. (More photos available on PhotoBucket)

I would definitely recommend this figure, Megahouse is a great company. This figure has an awesome sculpt, so good in fact that I can overlook the slightly disappointing-prototype-to-finished-work paint job. I love my Ichigo he's one of the favourites in my collection. Buy him now. Or you could just get the Play Arts version, you cheapskates.

Megahouse, make a Grimmjow now. I demand it.
---
You are logged out. Login | Sign up
ONE OF US WAS FRONT-PAGED! HOW THIS WORKS:
This story was submitted via our
Community Blogs
, and ultimately made it to the home page! Anybody can get on the homepage of Dtoid when you piss excellence. Want in? Write a longform blog with photos and senpai may notice you (our
community committee
picks the promos). It happens all the time: read more
promoted stories
You're not expected to always agree, but do please keep cool and never make it personal. Report harassment, spam, and hate speech to
. On the right side of a comment you can flag the user to
). For everything else,