Hey all, I decided in my insomnia to post up some pics of my collection. I said 'most', due to the fact that I have had to put away a ton of my figures due to a lack of space, and in some cases interest. What you see now is what has been currently purchased or what I really love.
So here is the base of operations, so to speak. This is my computer desk with my TV/monitor pumping out the visuals that keep me ticking. You'll notice that it's pretty damn cluttered. It's a consistent problem of mine, but hey, these figures aren't gonna pose themselves!
First up are the One Piece Portrait of Pirates statues that I mentioned in my Otakon post a couple of weeks back. Also there is the EVE that my awesome girlfriend was able to get for me, thanks to the luck of my friend Christian. The eyes spin around into one of six positions and she comes with several accessories to mess around with. I of course have her with her happy eyes (SO EFFING CUTE) holding a light bulb. Also on my desk are my biggest time wasters, my DS and PSP.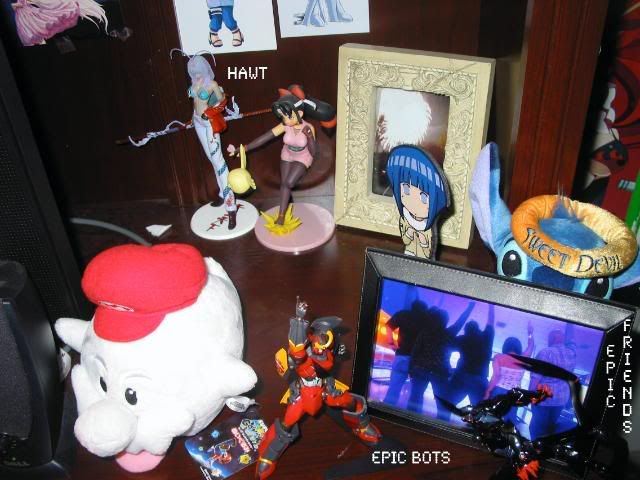 On the other side I have a Hinata standee picked up at the Otakon artist alley. She stands next to a plush Stitch, who has the honor of holding up an epic photo of all my friends pointing to the heavens. In front of the frame are my Gurren-Lagann and Lazengann in their most epic poses possible. Next to them is my plush Boo Mario, which is the softest plushie I've touched in ages. Behind them lies a frame with my girlfriend and I kissing during fireworks at Disney. Also there are the Bome version of Aya from Tenjou Tenge and the rarely seen Shinobu, from Nininga Shinobuden. I have yet to see another Shinobu for sale ANYWHERE, and I still consider the $70 that I paid for her 3 years ago a bargin.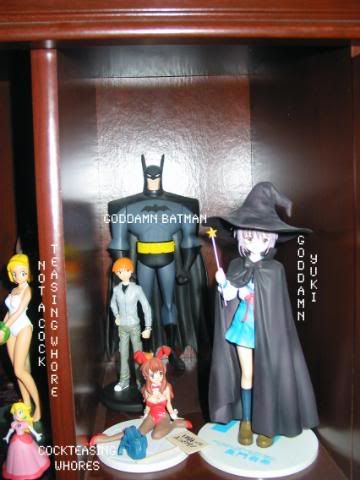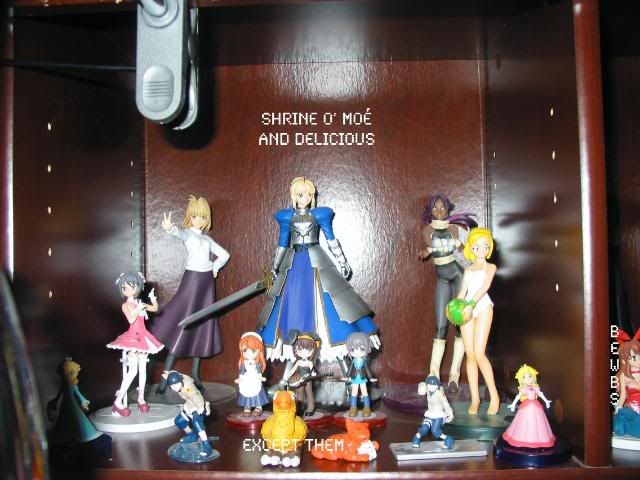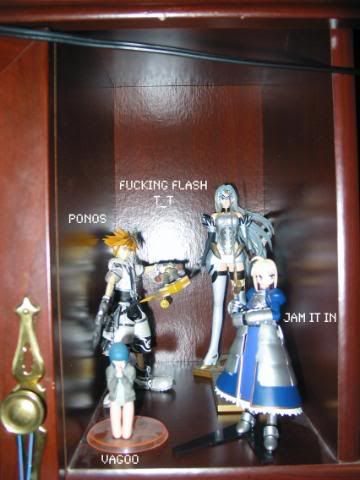 These three pics are from the cubby holes in the credenza. I love the fact that I have these little nooks that I can place some of the figures that I want to display a bit higher than the others. So yeah, the highlight on the right side is my Yuki, brought back from Japan by my friend Eva. She comes with several costumes, including her witch outfit, normal high school uniform, and her with a jacket on holding a stack of books. Dead center has Arc, Saber, and Yoruichi in the back with a bunch of my trading figures and gashupons. The left hand side has the Bome KOS-MOS in the back and my Revoltech Saber holding the fort.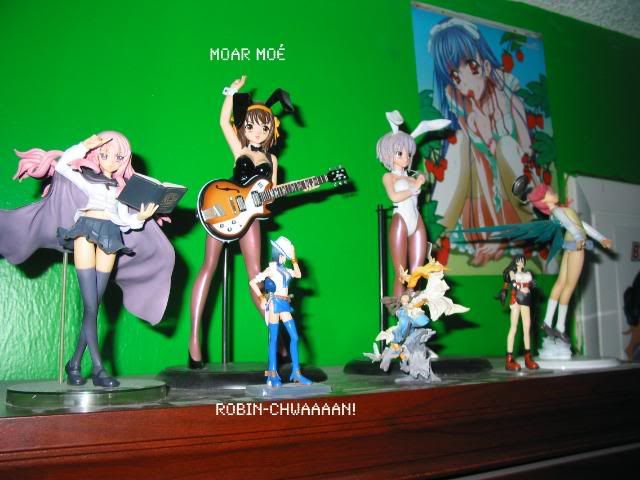 On top of the desk are my Yuki and Haruhi Bunny Girl PVC's, which I was only able to get via my mad sniping Play-Asia skills. She shares the space with my previously mentioned Natsumi and (off-screen to the left) Angol Mois.
Finally, her are the trading figures on top of my audio receiver and cable box. My obsession with KOS-MOS is finally made clear as you can see an abundance of her right here. I would have more, yet I failed in sniping the second and third of the Xenosaga Legends sets at Play-Asia. Behind the tasty gynoid are most of the Mugiwara pirates in chibi pre-Water 7 form. I picked these up at my local anime shop back when they were on sale and was able to get most of the set on my first shot. Along the sides are the entire set of Naruto Heroines that have the ladies all in kimonos. While I may not be into the series as much as I used to, these are some of the best looking trading figs I've ever seen, and that alone will keep them displayed as long possible.
With that, I'm done. If you're interested in seeing more of my area, check out my blog on Destructoid. See ya'll later!