A 2-part review of the Nendoroids Yuzuriha Inori from Guilty Crown and Kashiwazaki Sena from Boku wa Tomodachi ga Sukunai. Skip to the end for Pros and Cons on Yuzuriha Inori.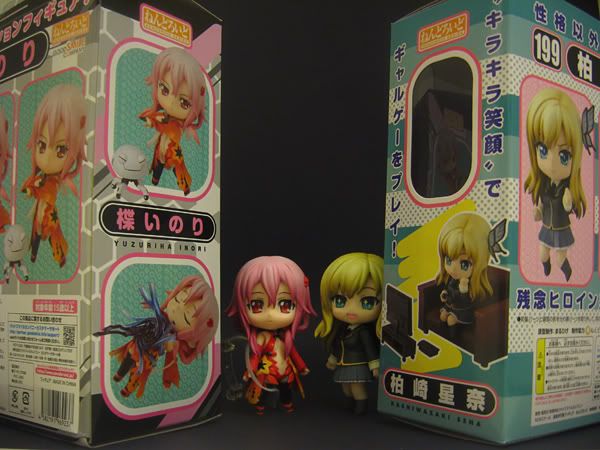 Both boxes are standard Nendoroid boxes, although eye-catching in different ways. Inori's box has a somewhat distinct color scheme with splashes of pink among a monochrome pattern, presenting Guilty Crown's design motifs in an appealing manner. Sena's box, while having far more generic patterning, is huge. Nendoroid Snow Miku's box is the only one I have that may match it in width.
Inori Accessories
- Three face plates, one normal, one closed eyes, one serious.
- A pair of crossed arms
- A pair of pistols
- A pair of hands to hold pistols
- A pair of hands with cat's cradle string
- A pair of shoulders for cat's cradle pose
- Void effect part
- Inori's Void
- Clear ribbon
- Funnell
Sena Accessories
- Three face plates, one happy, one stern, one tearful
- A pair of crossed arms
- A pair of straight, pressed arms
- Two pairs of bent arms
- A hand with controller
- A hand with portable console
- A Playstation 3 (?)
- Television
- Couch
- Television stand
- One sitting lower body
- One bent legs lower body
- One bent arm
- Yozora couch connectors
Just from the picture alone, you can see the massive number of parts that Sena got. While Inori didn't get as many accessories, hers are quite unique and varied.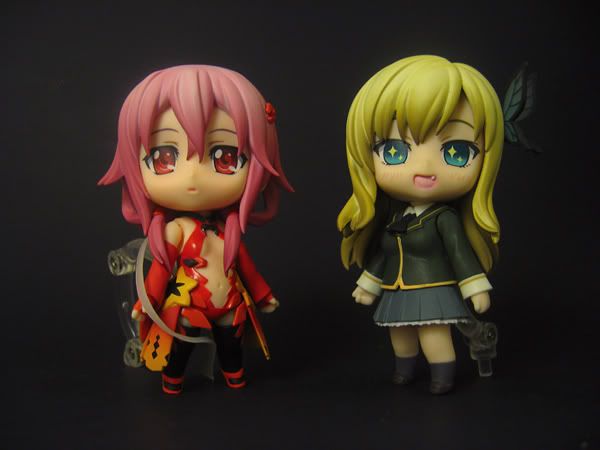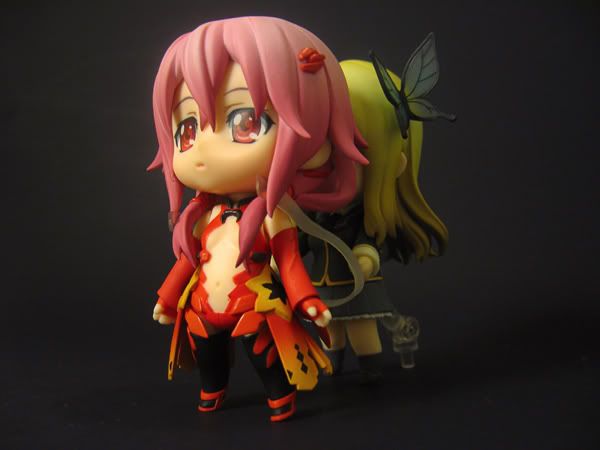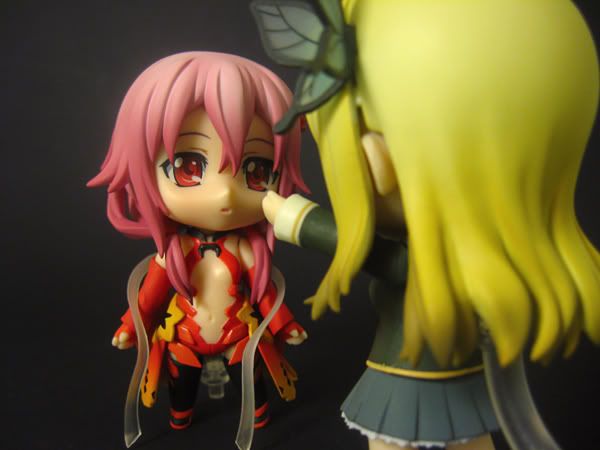 The ribbon is made of soft PVC and quite flexible. I initially though the ribbon would be sculpted onto Inori's arms and restrict her poses. However, GSC made the ribbon a separate piece and you can hang it over her however you like. I find a good position is to drape it over her shoulders and have the ribbon rest on the first pair of fins on her sleeves.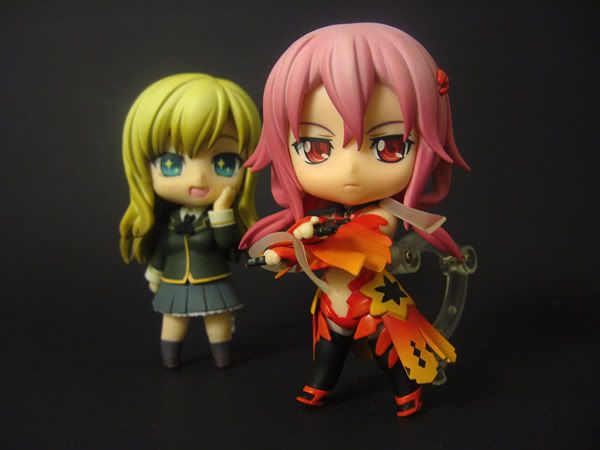 Inori comes with two crossed arms for dual-wielding her pistols. I also made an assumption off the preview images here, expecting the pistols to be sculpted onto her hands. However, the pistols are a separate piece, meaning if you want more than just one gun-toting Nendoroid, you have the chance now!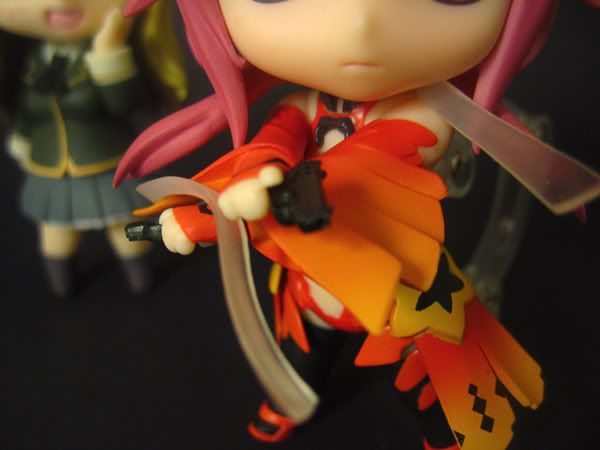 The pistols are very small though, so be careful not to lose them. The detail is minimum, but impressive nevertheless, considering their size.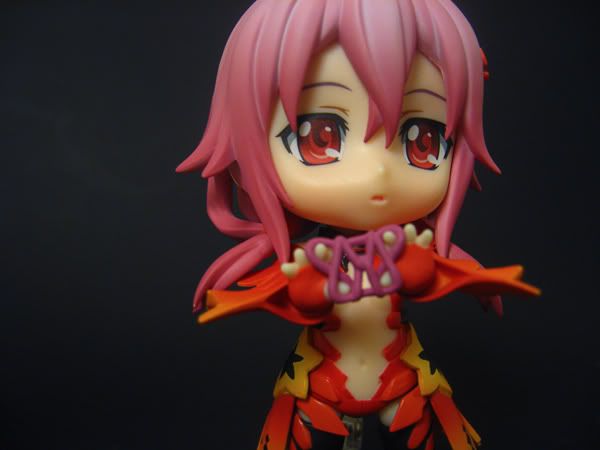 Cat's Cradle is also minimal in detail, but again, expected due to its size. Being small however didn't stop the sculpt from being detailed enough to have all the lines crisscrossing in proper weaves.
The Cat's Cradle requires you to switch out Inori's shoulders for ones that have a straighter angle. Depending on how you positioned her hair, you have some limited vertical movement, but not much. Pieces may start popping out if you try to force the pose too much away from just holding it straight out.
Pulling out the hands gave me a fright as the string snapped off during the process. However, after some close inspection, the string turned out to be potentially a separate piece (I'm not too sure on whether the remainder on her hands was paint transfer or damage from the separation). GSC was detailed enough that her fingers fit through the holes in the string, meaning the cradle fits right back into her hand if it falls off.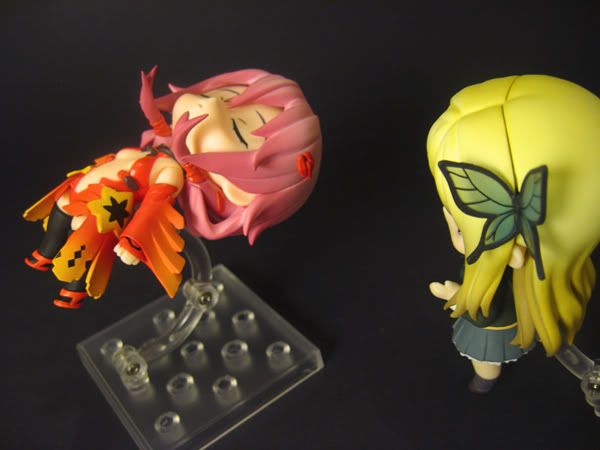 For those trying the Void pose, you want your base secured to the end farthest from her head so that the weight is counterbalanced and you don't have any problems with nasty falls.
Also note that her twin tails are adjustable; they can be adjusted above and below the tie, which makes Inori's twin tails some of the easiest to position right for a variety of poses. GSC also didn't skimp on detail here with wrinkles for the tie and using the same glossy red as the rest of her costume.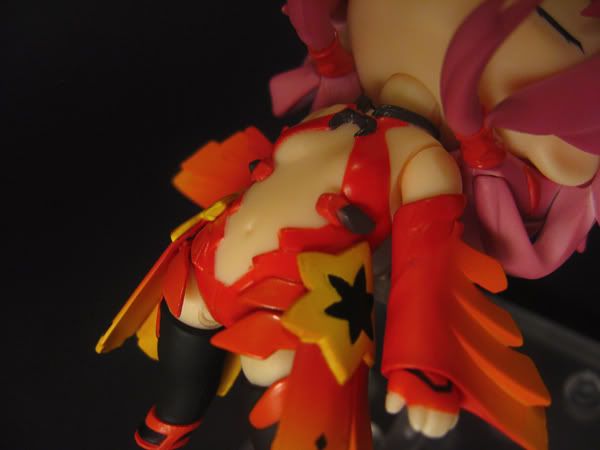 Here's a shot of the nice detail on Inori's clothing. The gradient painting and sculpt are quite clean and the colors are very striking. I was a bit surprised to find that a lot of Inori's costume is made of soft PVC, including the sleeves. I'd probably say Inori's the softest figure I've had to date.
Under her breasts, there are two pieces of her costume important for her Void effect part.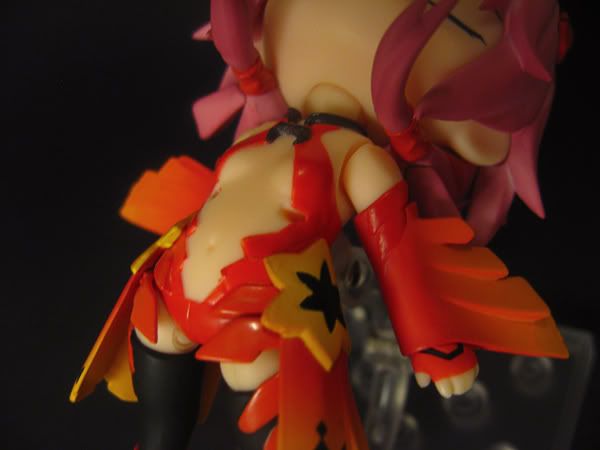 These two pieces can be removed. They looked so seamless on my first look that I thought the manual was telling me to somehow hook the piece to Inori's boobs. However, getting a nail under these pieces gets them out pretty easily, although I'm still scared that I'll snap the connectors during removal...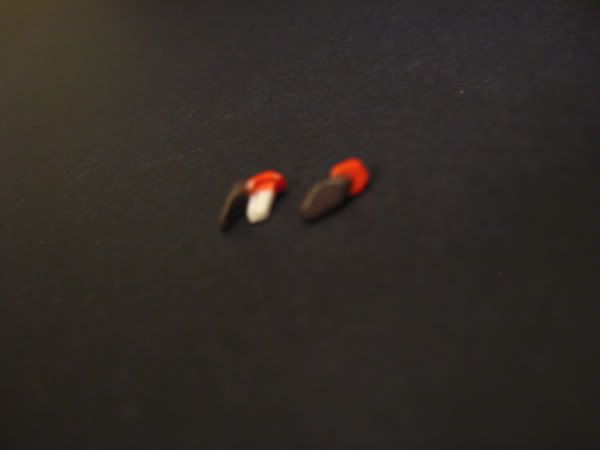 Once they're removed, I suggest you put them in a clean spot. They're absolutely miniscule and a nightmare to look for. Putting them back into place once you're done is easy; just push them back in. Make sure you have them fitted the right way though (check the box pictures if you're unsure) and they should stay in snugly.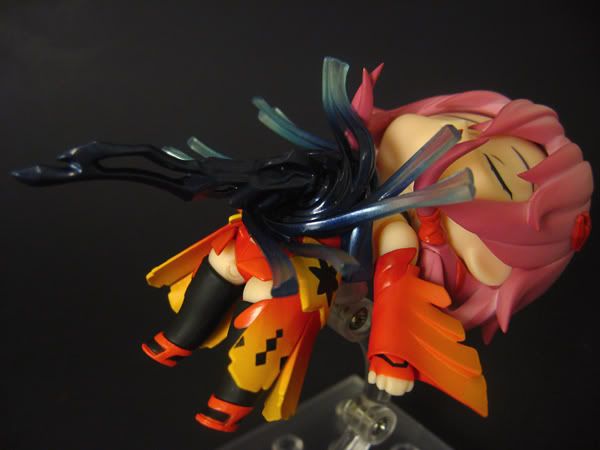 Once you have the Void effect piece in, then you just stick in the sword in the front.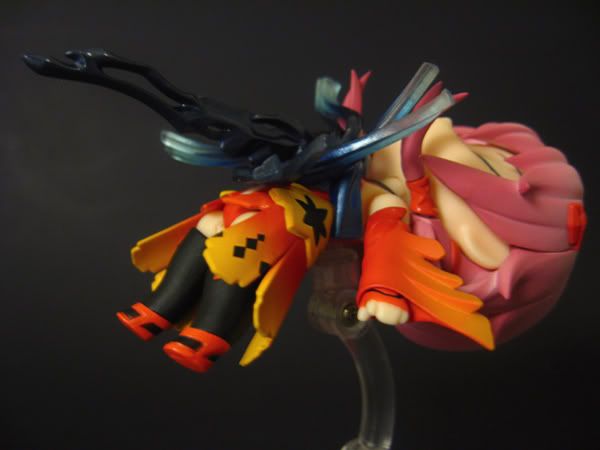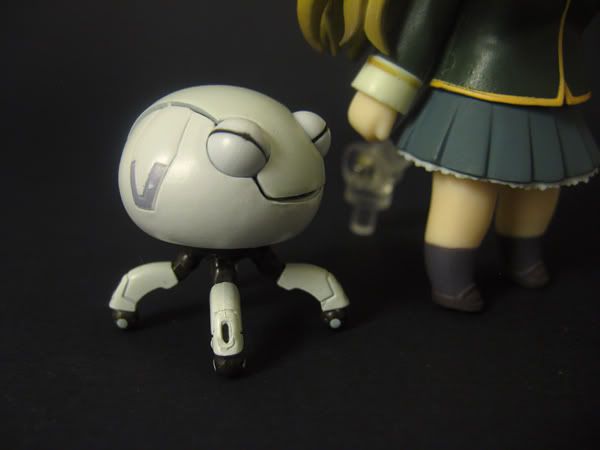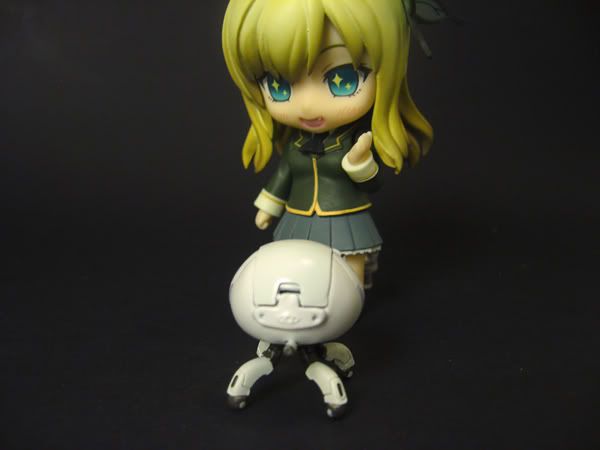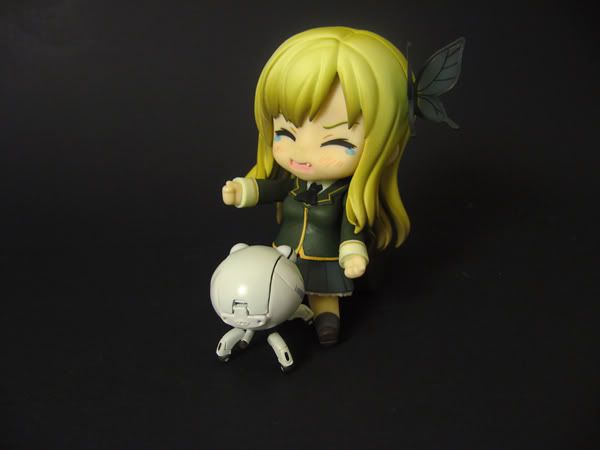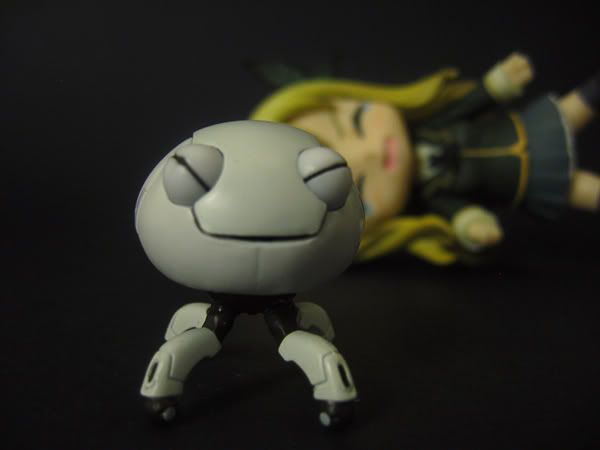 Funnell is probably the most interesting of Inori's accessories. It has waist articulation, so you can change the direction it's facing. The legs are very thin, meaning they're also fragile (however, as the legs don't move, superglue can fix any breakage you might have). Depending on your quality check, you may also find the legs to be calibrated incorrectly, meaning one or two legs may not touch the ground. But because of Funnell's size, it's really not noticeable unless you're looking for it.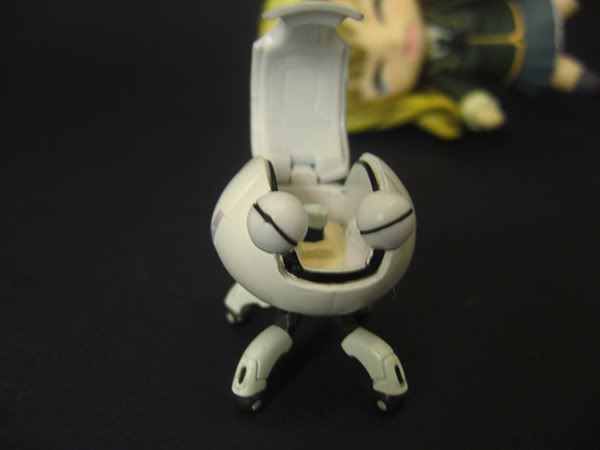 The top of Funnell's head opens up, revealing the Void Genome capsule inside. The head snaps over the eyes, so you may have to use a bit of force to open and close his head. I'm a bit worried about paint transfer because of this, but it hasn't been a problem so far.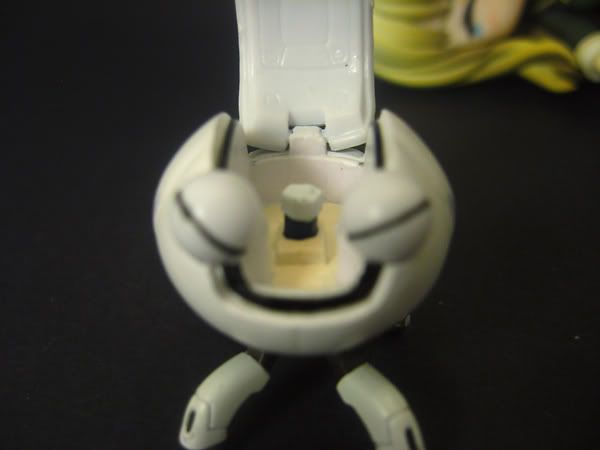 Contrary to my expectations again, the Void Genome capsule can't be removed. This might be for the better as it's even smaller than the pistols. You'd need tweezers to reach in anyways. With the head open, you can also manipulate his eyes, rolling them into different expressions.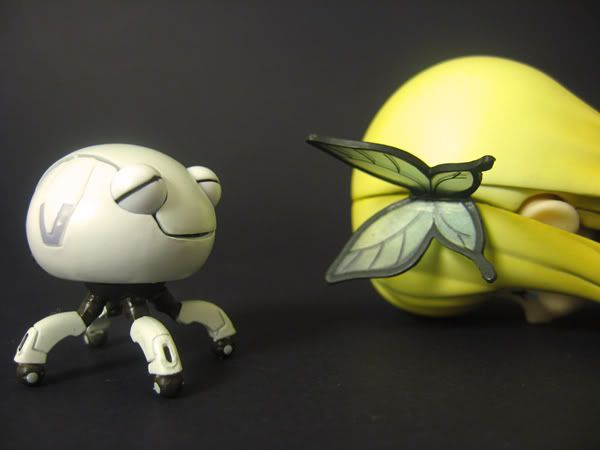 Funnell is amused.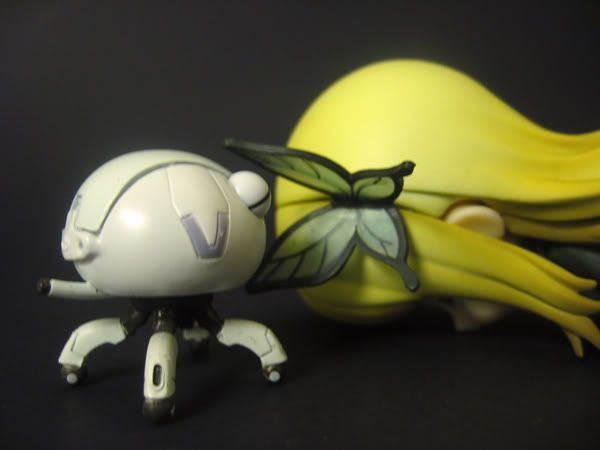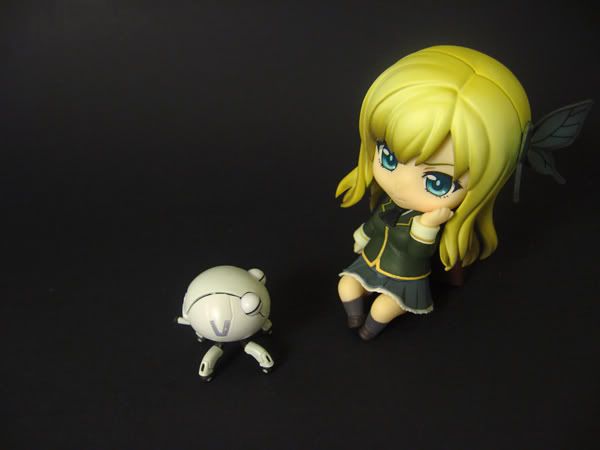 An angry Sena.
A baffled Sena.
Although it's probably not designed for it, you can also have Inori wield her own Void. It takes a bit of work as her hands are shaped to the pistol, not the sword. But it can be done, albeit a bit shaky during use.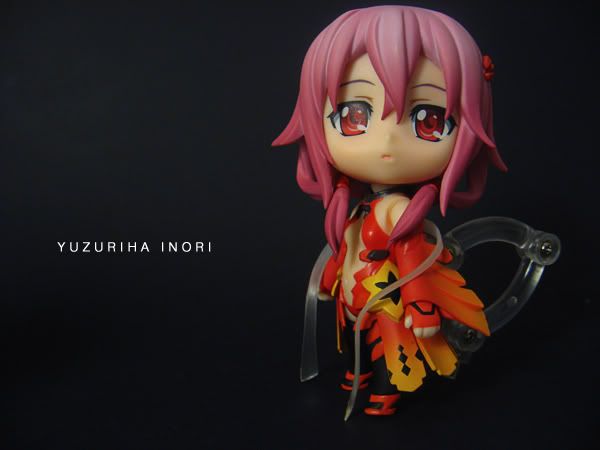 And that was Nendoroid Yuzuriha Inori!
Pros:
Overall, an excellent addition to the Nendoroid series, Inori comes with varied accessories that present lots of possibilities for posing and different scenarios. Her vibrant color scheme and gorgeous design is just icing on the cake. Soft PVC makes Inori more flexible than other Nendoroids and having detachable accessories makes it less likely that she'll suffer damage.
Cons:
Because of how lavish her costume and sculpt are in detail, there are a lot of small pieces that can easily get lost. Her design also makes it a bit tricky to position her head and arms. Unlike other Nendoroids, Inori has flattened feet, but they're at an angle, so she requires a stand to stay up straight.
Stay tuned for part 2 with Sena.