So waiting for me on my front door today was an awesome package from Stella (Aiya). It was amazing in so many ways.
Box Art:
Not only are these fantastic sketches of Persona 4 characters. They're related to
the massive conflict I had within the game!
Which ended up turning out not being a conflict after all because you can totally be a mack-daddy in the game and get JIGGY with ALL the girls.
Note: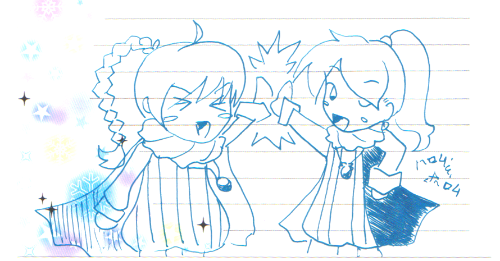 There was even a hand written note with an awesome drawing of Palom and Porom!! Then it reminded me of their sacrifice and it made me weep for a while.
Loot:
Finally the goods! Not only did she send me the awesome Revoltech Valkyrie, but there was an extra hidden FF4 figure! ALSO, CANDY!
Totally made my day! Thank you so much Aiya! You ROCK!
Coming up: better pics of the play date that my Revoltech Mazingkaiser will have with Valkyrie.