Back in April when the Tiger & Bunny anime first aired who knew Sunrise's original television series directed by Keiichi Satou and written by Masafumi Nishida would be the smash hit it is today. The story takes place in Sternbild City where people with special abilities are called "Next". In Sternbild there is a popular reality television program called "Hero TV" where 8 superheroes with their "Next" abilities compete for the title of "King of Heroes". In order to earn the title of "King of Heroes" the heroes must stop crimes in Sternbild to earn hero points. Each hero works for a different company and they each wear sponsor logos on their suits. The veteran hero of the group Kotetsu T. Kaburagi whose hero alias is "Wild Tiger" is forced to take on a partner Barnaby Brooks Jr. once his company "TopMag" is taken over by "Apollon Media".
As with all series there are always figures to look forward and Tiger & Bunny was no exception. Since one of Wild Tiger's sponsors on his hero suit is
S.H.F
iguarts Wild Tiger would be the first character in the series to get his figure released. Wild Tiger's pre-order surfaced six months ago and needless to say he was sold out within minutes. Wild Tiger's initial release date was slated for September 23, 2011. Bandai quickly realized the immense popularity for Wild Tiger and added re-release dates for October and November. Even with the re-releases Wild Tiger was a very hard figure to obtain. Every time his figure was available for pre-order it would sell out within minutes. I was determined to get my hands on Tiger one way or another. Missing out on the October restock I decided to obtain my Tiger from Mandarake not knowing that within days I would somehow get lucky on AmiAmi and order a second Wild Tiger. Now let's see if this sought after figure was worth all the stress.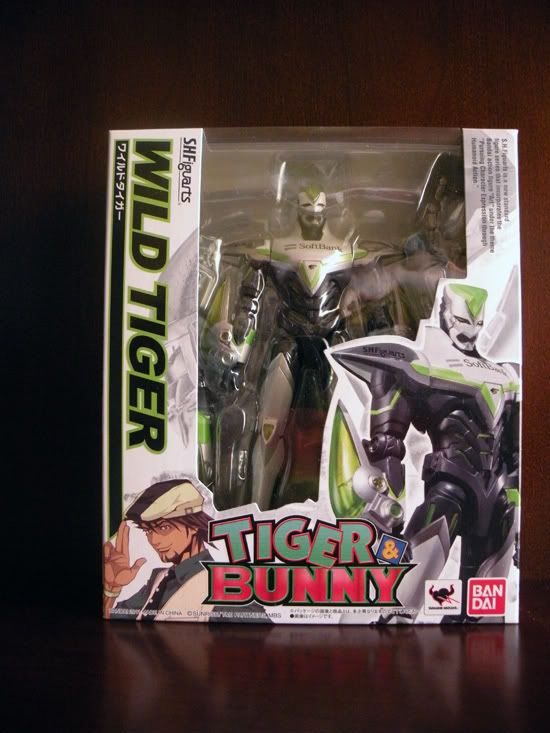 First let's take a look at Wild Tiger's box. On the left side of the box we see in a large black and green font with the name Wild Tiger. Towards the bottom we see the Tiger & Bunny logo with a picture of Kotetsu on the left and Wild Tiger on the right. You also have a glimpse of Wild Tiger through the F shaped clear plastic. One thing I like to mention is the fact that you can see the Bandai and Tamashii Nations logos on the bottom right hand side of the box.
On the side of the box we have a picture of Wild Tiger standing in his hero pose.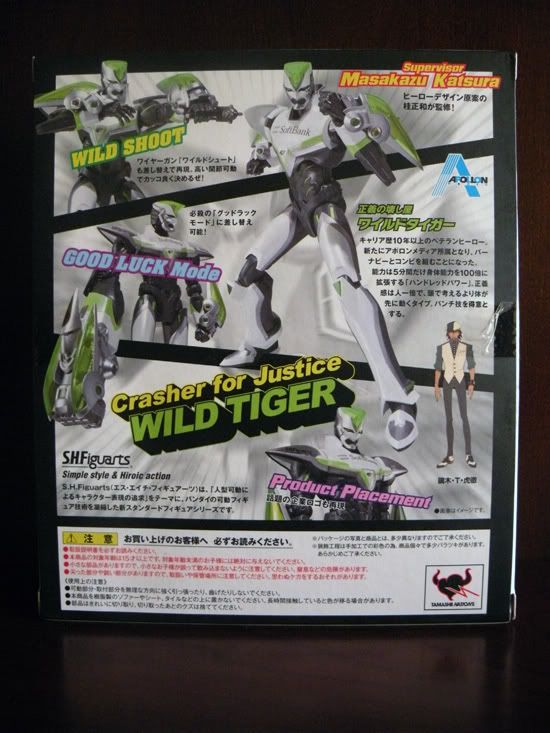 Here we have the back of the box. First thing to notice is Masakazu Katsura name on the top left corner who is the original Character designer for the series. Pictured on the left hand top corner is Wild Tiger with his one of his wire guns "Wild Shoot". Underneath we have Tiger in the famous GOOD LUCK Mode. Toward the center of bottom of the box written in a yellow bolded font is Wild Tiger's nickname "Crasher for Justice" which he earned by constantly destroying private property in his attempts to catch criminals.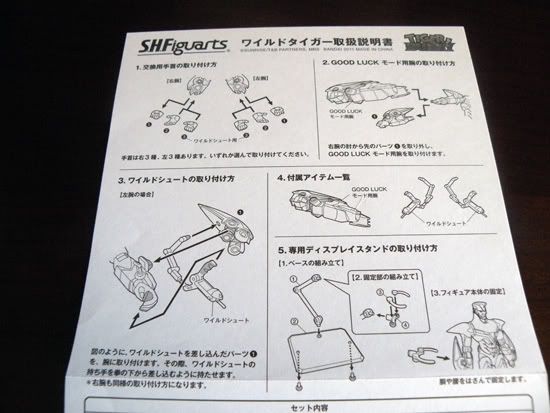 Inside Wild Tiger's packaging are a set of instructions that show you how to add and remove his hands. You also have the instructions on how to put on Tiger's GOOD LUCK mode along with his pair of wire guns. Last but not least, the instructions for putting together Wild Tiger's stand.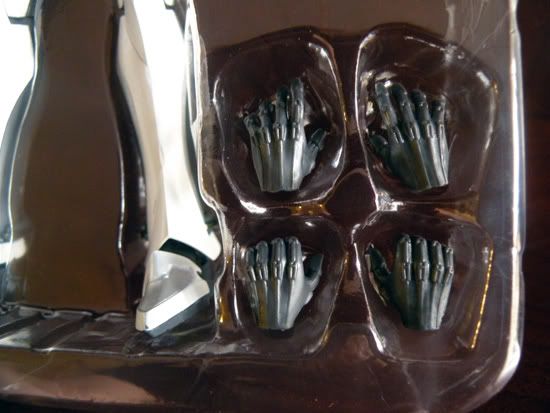 A closer look at Tiger's packaging which includes Wild Tiger himself, 2 wire guns, GOOD LUCK mode arm, and 2 extra sets of hands.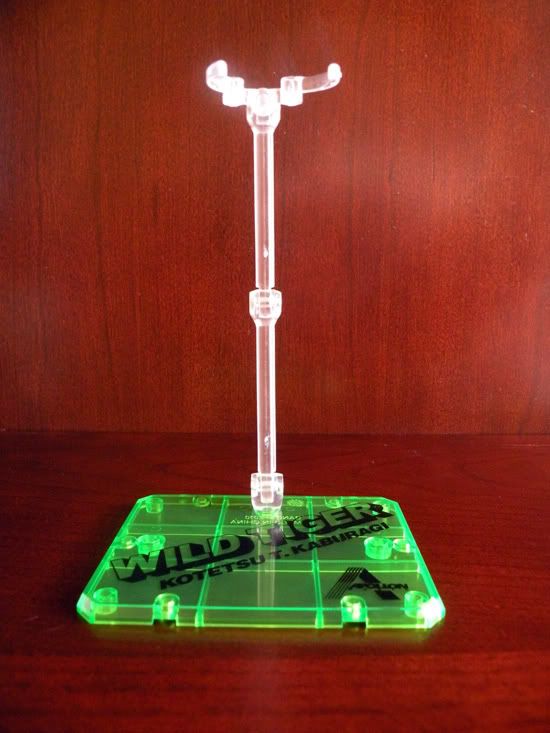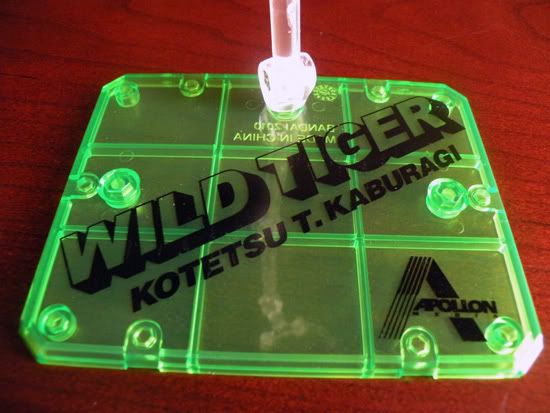 Here is a look at Wild Tiger's stand. The stand is green with WILD TIGER written across it. Underneath Wild Tiger our favorite moe oji-san's name Kotetsu T. Kaburagi is written. On the bottom right hand corner you have the company Wild Tiger works for name "Apollon Media". One thing to note although the figure does include a stand Tiger can stand without using it and not fall down. The stand does come in handy if you choose to pose him in GOOD LUCK mode as seen in the anime.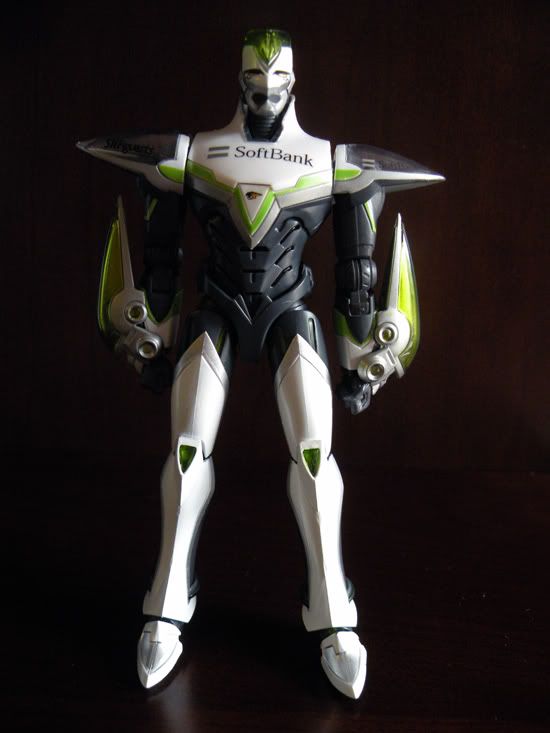 Finally out of his plastic prison we have Wild Tiger. Here we see the full body shot of the hero suit design by Apollon's engineer Saitō-san. The first thing you probably take notice of is the product placement on Tiger. Across his chest plate armor you see the telecommunications company SoftBank's name printed. His shoulder blades armor also has logos printed on them which we'll see in more detail a little bit later on. As you can see Saitō-san's designed hero suit also includes arm and leg armor. As I mentioned above the figure is sturdy enough that you don't need the assistance of Tiger's stand to pose him.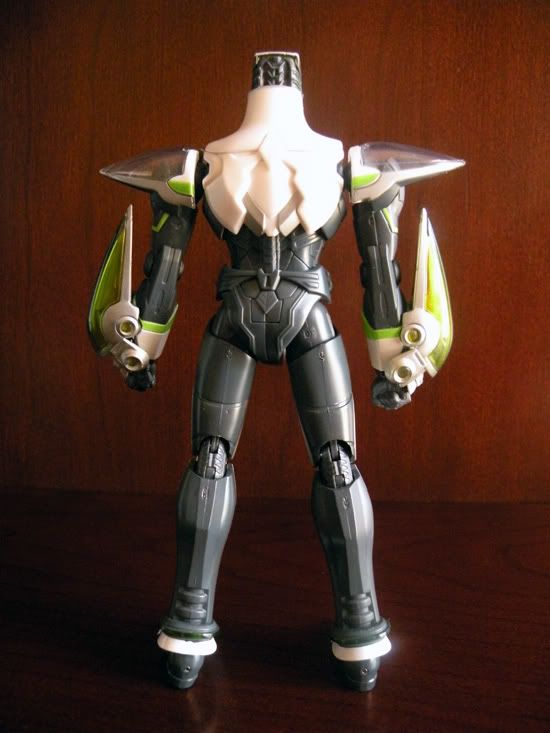 Here is a view of Tiger's hero suit from behind.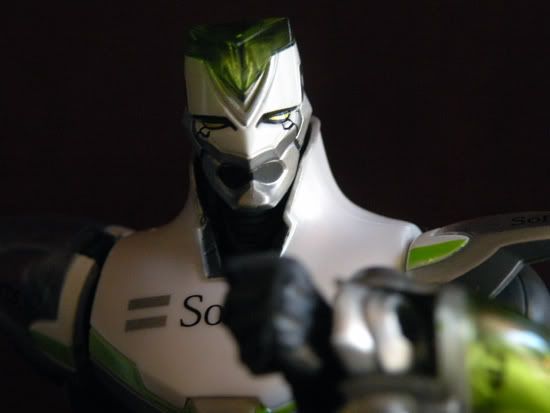 At last we get to Tiger's face. His eyes are painted with a metallic yellow paint which makes them look as if they were Tiger eyes. There is also a black outline around the eyes as well.
Looking at Tiger's left profile you can clearly see a black a line from his eye which goes down to his jaw on his mask. In this profile shot Tiger's mask looks like his Wild Tiger logo.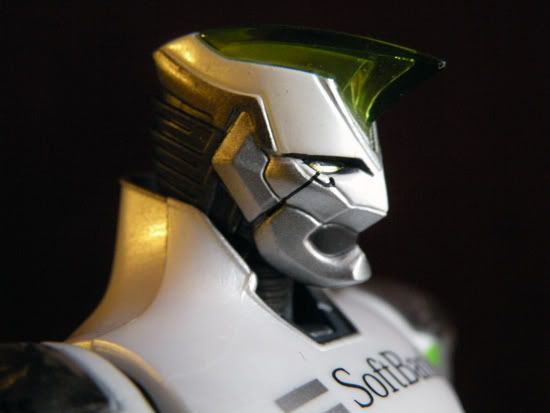 His right profile gives you see a better view of the top of his mask.
Towards the bottom of Tiger's chest plate we have Wild Tiger's Logo which is a profile of a tiger's head. It's painted black and yellow.
As I mentioned above Wild Tiger is sponsored by two companies. One is SoftBank and the other is none other than
S.H.F
iguarts. You can see the product placement of
S.H.F
iguarts on Tiger's left shoulder armor.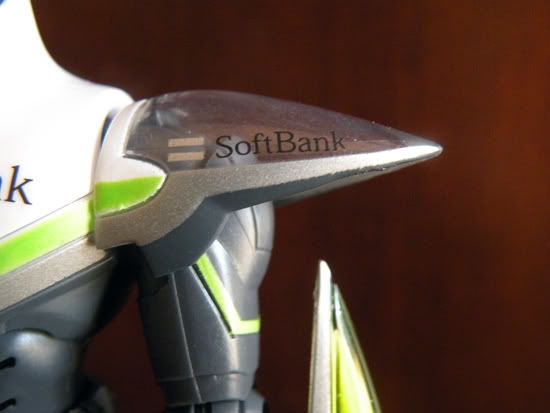 Speaking of SoftBank here they are again placed on the right shoulder armor.
The shoulder armor can be raised which gives Tiger a lot of freedom to pose his arms. Here you get a better look at the green line that goes across his arm. Once Tiger activates his ability called "Hundred power" this part of the suit glows.
Here we see the arm armor that Wild Tiger has. The armor starts at his wrist and has a tear drop shape. It's painted with a silver metallic paint. There is a clear plastic green used over the silver to give it the look of the "Hundred power" activation.
Wild Tiger's Figuarts comes with a total of three sets of hands which you can choose from. The joint to change the hands is located on Tiger's wrist. It's very easy to change his hands.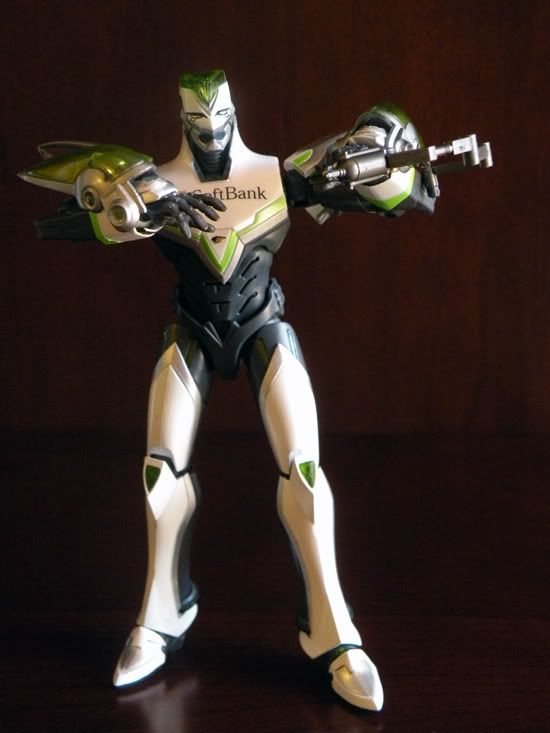 Here we see Tiger with holding one of his wire guns "Wild Shoot" as it was referenced in the back of his box.
Tiger comes with a pair wire guns which you can choose to pose him with.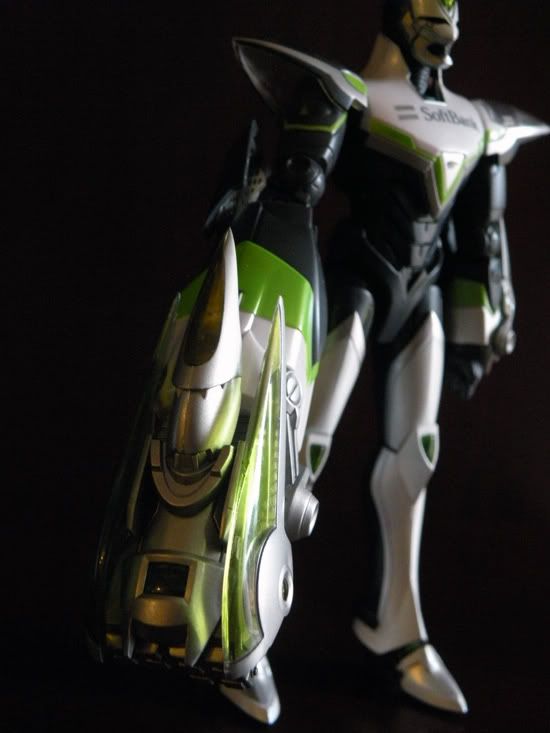 The final feature that comes with Wild Tiger's suit is everyone's favorite GOOD LUCK mode. This feature was seen in episode 5 in which Tiger & Bunny were fight against a criminal with diamond skin. As Tiger's power was running out a giant fist was activated on the armor. Though our heroes believed that GOOD LUCK mode increased their strength Saitō-san tells them the flashy effect is just to make them look cooler in battle.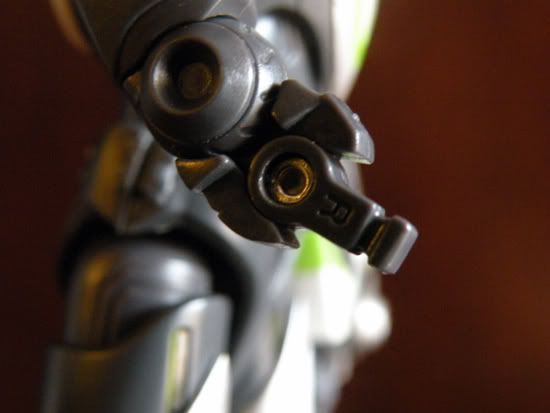 To get Tiger in GOOD LUCK mode you have to remove his forearm from his elbow joint. You can easily attach the giant fist to the joint. I do admit when I first tried to get Tiger into GOOD LUCK mode I was a little afraid that Tiger might break but the figure is very well made. It will endure the pushing that you have to do to attach the fist.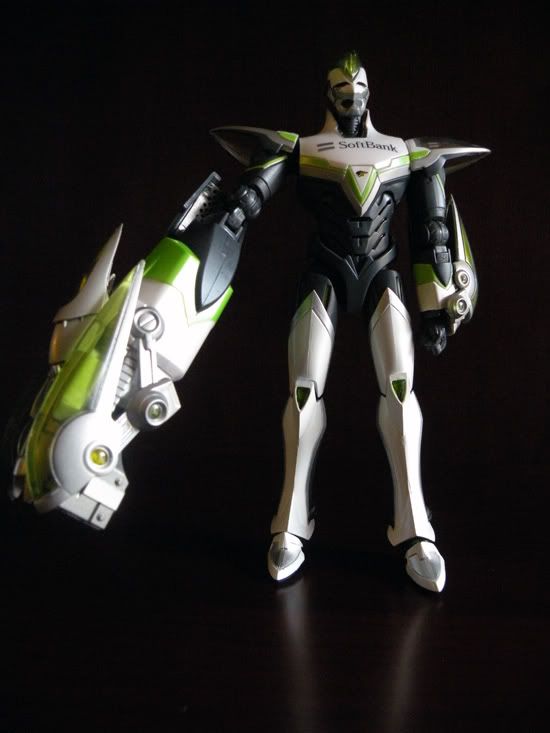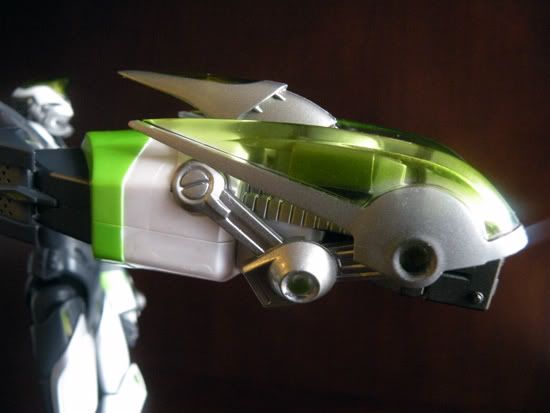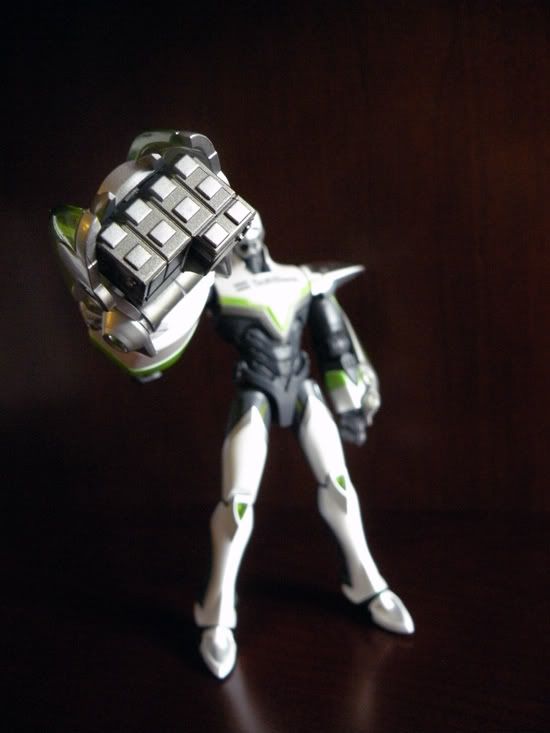 Here is a close up of the full power of GOOD LUCK mode.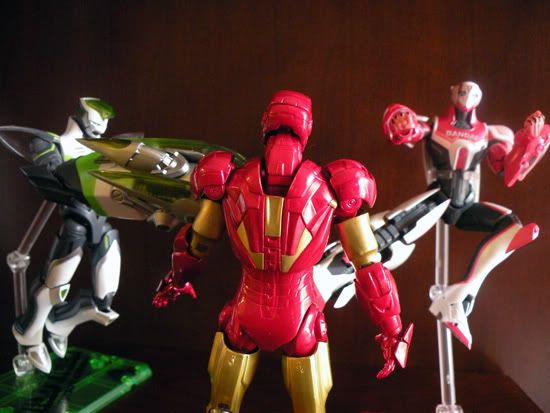 GOOD LUCK mode! 3…2….1…. Tiger & Bunny. Over and out!
I do believe that Wild Tiger was worth all the stress I went through to obtain him. There are some paint issues on the figure but it doesn't take away from the pure enjoyment of the figure. You can pose Tiger in any of the wacky poses from the show and not worry about Tiger breaking a joint. If you're worried that you missed out on obtaining Tiger there are still a few places you can get him at. He is available on Mandarake. I have seen a couple of Wild Tiger on the site for 5,500yen. He is also available at Anime Power and BBTS. Be warned that the prices at those two shops are very high. Regardless, if you are a fan of the series this is a figure that I think anyone would like to add to their collection.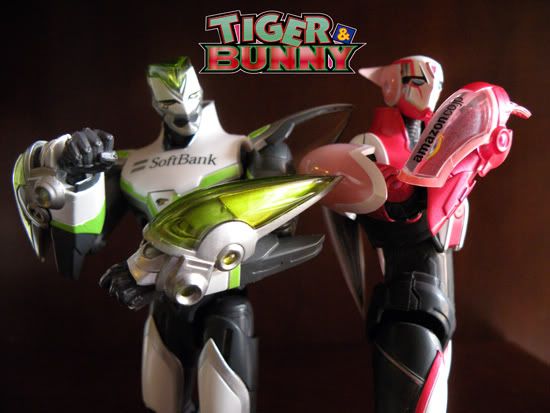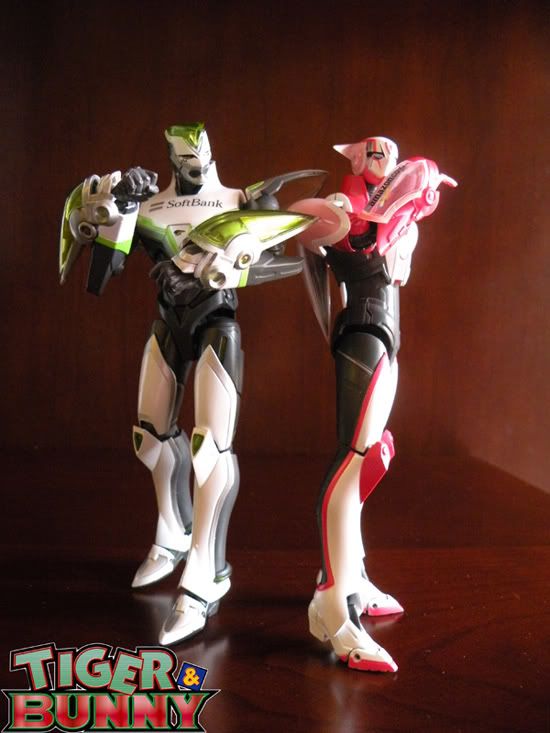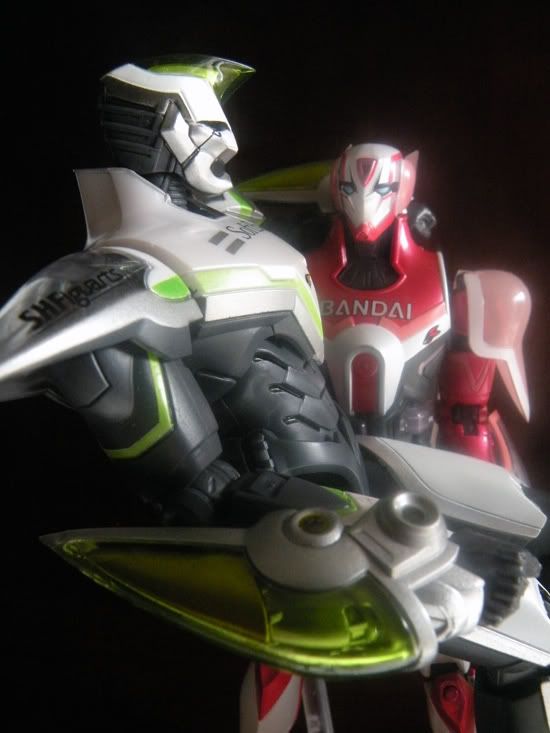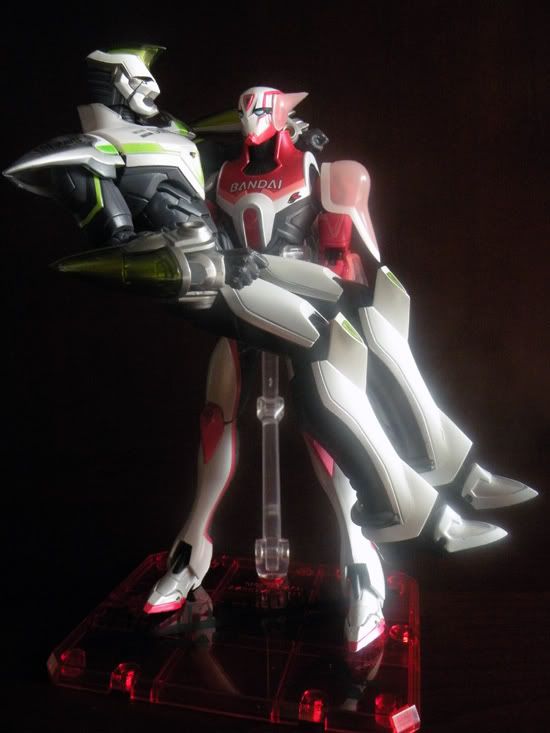 What would a Wild Tiger review be without including the famous Princess carry picture?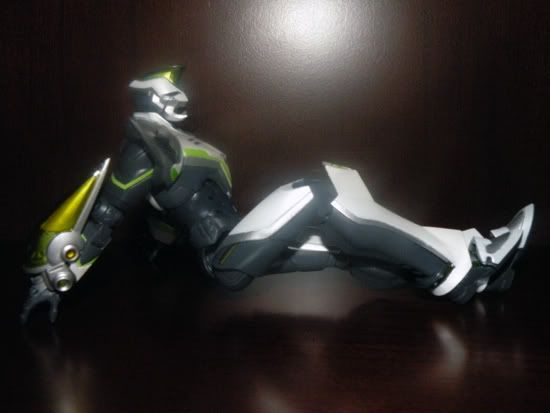 B.T.B ~Natsu no Koi wa Otsukare ~ performance from episode 14.
Before I end this review I believe our hero has something to say:
Hi! I'm Kotetsu, the member of "Tiger & Bunny "who eats the ice in his juice!