Seven Coloured Puppeteer Alice Margatroid, by Ques Q.
She's bright, colourful and has a lot going on. But this is the basic version, 'Alice only'. Much as I like Alice having her big troupe of dolls, I couldn't stomach the cost of the DX version where she has six of her toys with her.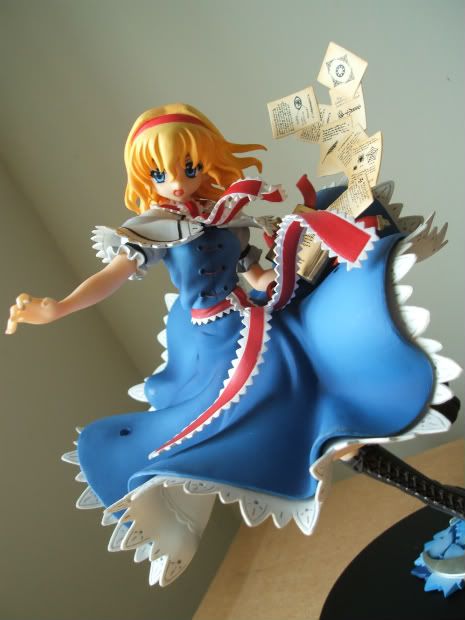 This is just the start of things. And although there's parts left to add, this Alice still has plenty going on.
Scalloped detailing on the underskirt, duly noticed and appreciated.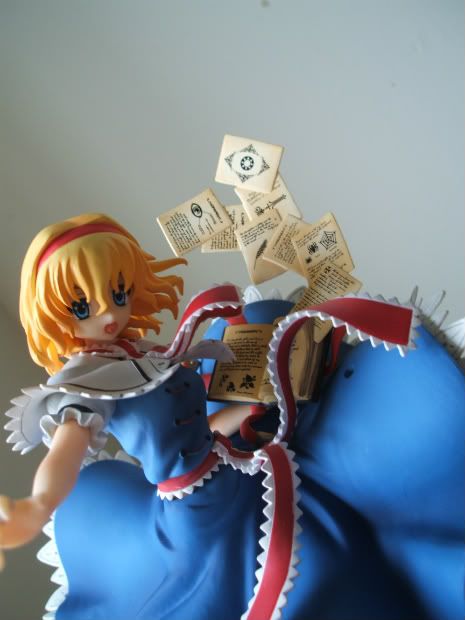 Briefly looking like the Alice that tumbles down a rabbit hole.
...and if I fall all the way, will I come out on the other side of the Earth, where people walk upside down and
don't
have tea parties with the people they've just defeated...?
The grimoire pages are so nice, continuing all the billowing movement in the figure. Their miniature printing is even legible.
Nothing but bright colours. Her hair is a shaded with bold yolky yellows, ranging to an orange that's almost neon. Obligatory touhou headgear does stellar work hiding the hair seam. The volume of hair getting pushed back and out takes the camouflage another step further.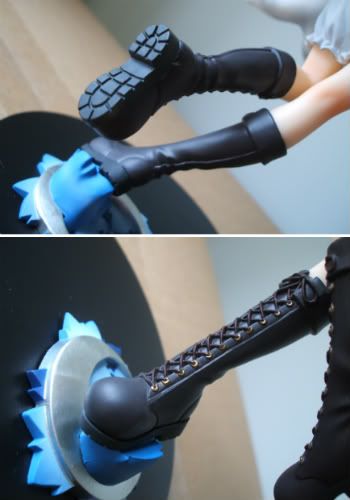 Alice plugs onto some angled pegs on the base. No problems with alignment and the hold is sturdy and tight enough that I had to knock them in with the heel of my hand.
The boots themselves are nicely detailed, with depth given to the long columns of lacing and soles. These details are all neatly and crisply done. The paint touches on the grommets are just as neat and even. Only problem I had was well, a big white smear all over one of her heels. And then I rubbed at it as my disappointment was just welling up and it went away. Just some powdery residue that disappears easily. My Alice had some on the edges of her skirt too, and she'd picked up a couple of fingerprints from the last people to touch her. But those come away dead easy, so no problem.
The holes in the skirt will have one of Alice's dolls in each one. The sculpting on the two is simplified, but goes far enough to give them bloomers and some delineation between the fingers.
Alice doesn't come with a crib sheet for assembling her, so you use a combination of guesswork and peering at the photos on the back of the box. The sockets on each doll are obstructed by the frill of the skirt though, so out of the box, nothing fits together. Once some of the plastic had been scraped back I got the two of them jammed on an arm, and then the arms persuaded into the skirt sockets. They didn't seem to wanna go in too far so right now, it's not the securest fit.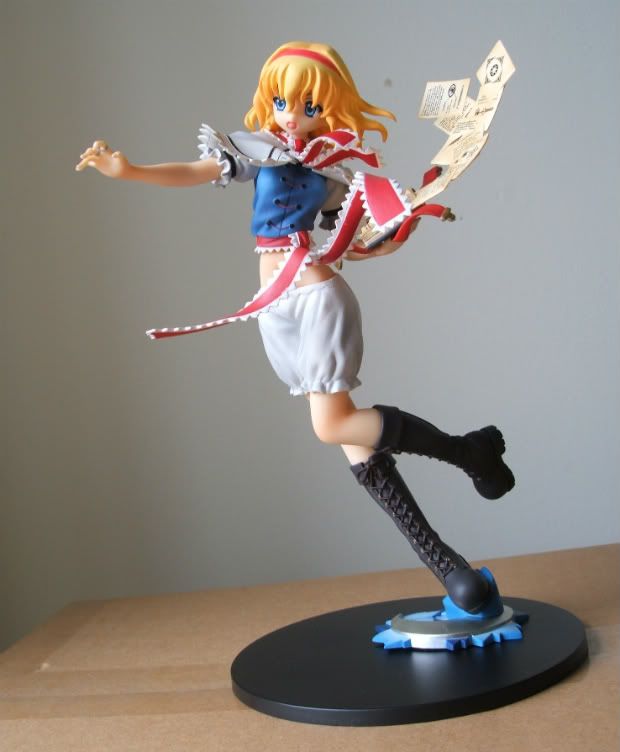 Alice can be pulled apart in the middle and her skirt removed. I don't know if that choice was to make attaching the dolls easier or to offer this alternate display option. I have a Sanae figure by Ques Q who doesn't have any familiars that need attaching but you can still take her skirt off and display her in her stripey knickers. Maybe it's just a thing Ques Q does when characters have got fuller skirts.
Seeing her with her skirt off makes the pose clearer. She's stumbled, mid-incantation.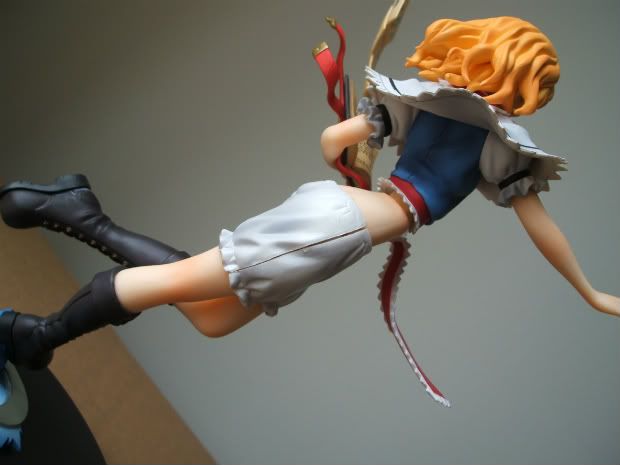 That giant seam? The bloomers cast off. Underneath are some plain white pants, a size or two too small. That makes three display options, if you can deal with the extra space at the join and the long waist being more obvious now.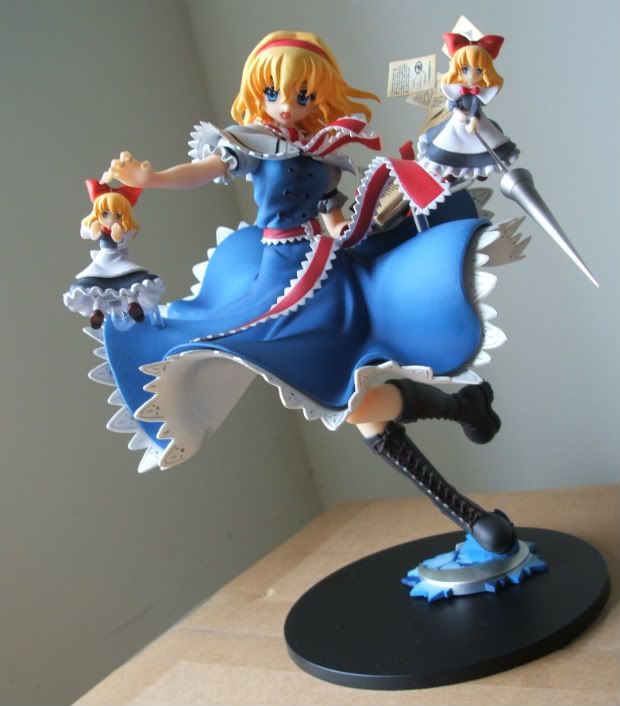 Even if Alice is about to faceplant spectacularly, the dolls are locked on target, ready to stab/beamspam.
The spear is inserted through holes in the doll's hands and bow and is a wicked looking thing. That doll is easily looking more dangerous than Alice and her moe-ish 'oh noes!' face.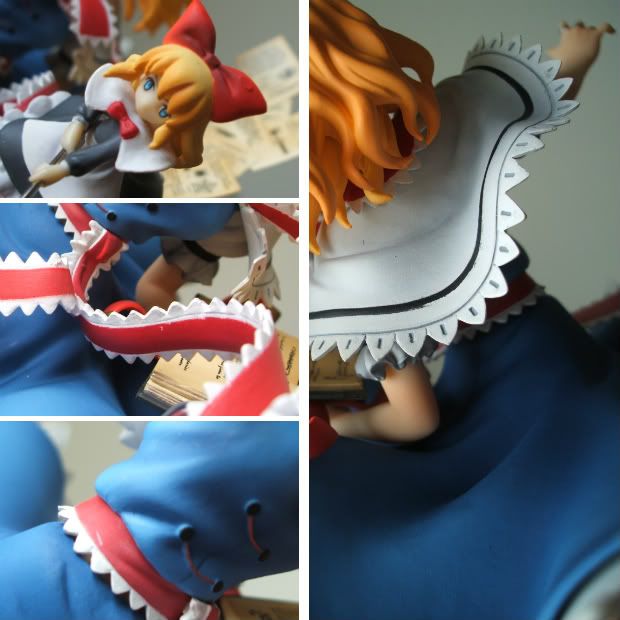 Flaws happen with some blip on the sculpt/mould on Shanghai's headdress. The two dolls are simplified in sculpt and paintjob. Shading is basic, sweeping briefly over the two of them.
Edges on the outfit trimmings aren't perfect, wandering from lines or blurring at the edge in places. And this particular Alice has a muted line of white on her belt, 2/3mm long.
Painted details that went
right
are the rings on both hands. They encircle her fingers, are delicate and consistant, no wobbliness.
The shape of Alice's hands and fingers are lovely, still pretty whilst looking natural enough in the pose or grasp. Every fingernail's painted in a peachy shade.
And I like everything about the grimoire, from the miniscule but still readable print to the straps and buckles flying free.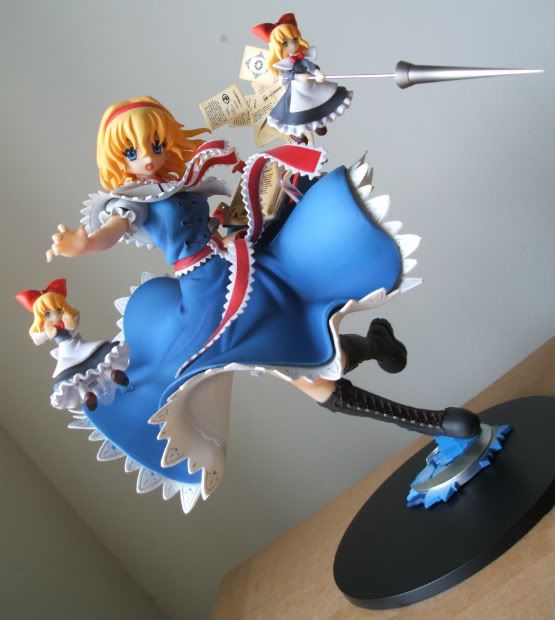 Extended as she is (about to stumble clean off the base), she's kinda wobbly. But although those doll arms didn't feel secure going in, they're holding up all right.
She's a cute, lively figure and worth it for me. I've wanted an Alice figure for a while, but before this one I only really fancied the petit nendoroid, so it made me smile wide to see this one, with dolls, the extra element of the grimoire spilling it's pages and the flying ribbons on her outfit. (even if it was kinda tricky with the supporting arms for the dolls and getting Shanghai in place, at a decent angle and inbetween streamers and book pages)
Colour was consistant with what I was expecting, unlike Sanae and Meiling, who were a slightly different shade. She doesn't have PCB Sakuya's stern presence but quality is smoother, better. I look forward to Griffon releases with cautious optimism and crossed fingers. Ques Q releases are optimism straight up, for me.
Alice is getting a re-release in june. Weirdly, on amiami I can only find the deluxe version (this Alice and another four dolls) or the doll expansion pack (those four extra dolls). 'Alice only' is sold out.